POS (point of sale)  is the time and place where a retail transaction is completed.  the merchant calculates the amount owed by the customer, indicates that amount, prepare an invoice for the customer  and indicates the payment method for the customer to make payment. It is also the point at which a customer makes a payment to the merchant in exchange for goods or after provision of a service.
In this article, we will look at some best pos hardware vendors. POS is the software that is been installed on computers at supermarkets and shopping mall to calculate the amount of goods purchased by customers.
BEST POS HARDWARE VENDORS
Bijoufixup Solutions

Wed Global Group

Biscom Ventures

Music Arena Company Limited

Norjgix Technologies

KodeCentury Technologies
KodeCentury Technologies is an information technology (IT) solutions provider and consultancy firm located in Accra, Ghana. The firm exists to provide high quality IT solutions to propel Ghanaian businesses to perform efficiently, reduce leakages and improve upon their profit margins.
ADDRESS
Lane 9, Anyaa, Accra, Ghana
WEBSITE
WORKING HOURS
| | |
| --- | --- |
| Monday: | 8:30 – 17:30 |
| Tuesday: | 8:30 – 17:30 |
| Wednesday: | 8:30 – 17:30 |
| Thursday: | 8:30 – 17:30 |
| Friday: | 8:30 – 17:30 |
| Saturday: | Closed |
| Sunday: | Closed |
Compu-Ghana is Ghana's premier retail outlet for I.T. products, services and accessories along-with audio-visual equipment and home appliances.
BRANCHES OF COMPU GHANA
Osu Mark Cofie House
Spintex
Orca Deco
Accra Mall
A&C Mall
East legon
Achimota Mall
Marina Mall
Junction Mall
West Hills Mall
Osu Mall
Tema Com.2
Tema Com.25
Kumasi Adum
Kumasi Mall
Takoradi Mall
0557700899
SOME POS HARDWARE SPECIFICATION
BIRCH AP8100-T25G 15.6 INCH SALES SYSTEM PCAP TOUCH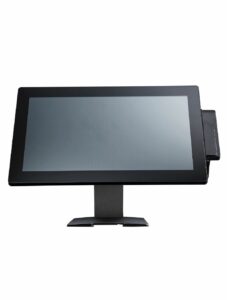 15.6″ tFLAT Amplitude system
PCAP touch
w/A2 stand
QuadCore J1900( Fanless) 1 x RAM
1 x LAN
the 15.6 Amplitude built-in QuadCore J1900, projected capacitive( P-CAP) touch, furthermore 4GB RAM and 64GB SSD as the base model unrivaled convenience[ removable HDD] P-CAP touch true flat bezel design click out RAM [ Exclusive in J1900 model]
Epson TM-m30 POS Receipt Printer

128 x 43 Graphic (including user-defined page)

Receipt-columns paper roll size

83.06 mm (3.27 in) maximum

18.03 mm (0.71 in) minimum

NOTE: 

One connector can drive two cash drawers (via seperately purchased splitter cable).

Two-dimensional symbol printing

Two dimensional GS1 DataBar

200 mm/sec (7.9 in/second)

NOTE: 

The print speed changes automatically depending on the applied voltage and head temperature.

Direct thermal POS Grade(s)

15 million printing lines

Compatible with the HP Point of Sale (POS) systems

Not all HP POS systems and cash drawer models are available in all countries/regions.
READ MORE
HOW TO OPEN FIDELITY BANK GHANA ACCOUNT
HOW TO OPEN FIDELITY BANK GHANA ACCOUNT
HOW TO SIGN UP FOR GTBANK INTERNET BANKING
BEST PAID ONLINE SURVEY IN GHANA
ORAIMO WIRELESS HEADPHONES PRICE