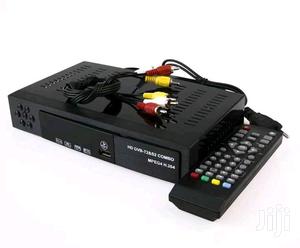 This Article Gives You The Price of Multi TV Decoders And All You Need to Know About Multi TV Decoders.
MultiTV is a Privately Owned Satellite Television Station Based In Ghana.
This Station Offers a Variety of News, Sports And Entertainment Channel in Digital Format to The Ghanaian Populace.
There is Something For Everyone! Children, Adults, Old Men And Women.
It Was Set Up In 2009 By The Multimedia Group Limited.
Multi TV is One Of The Free-to-air Digital Television Services in Ghana. It is Very Competitive.
This Multiple Channel Television Service Has a Number Of Options For It's Customers By Which They Can Air Their Local And International Shows; one of Them Being The Multi TV Decoder.
In This Article we Give You All The Details You Need To Know About The Multi Tv Decoder And It's Price.
Depending on The Type Of Multi Tv Decorder You Would Want To Buy, Multi TV Has Various Prices For All The Different Types.
The Digital Satellite Combo Decoder Goes For GHC 160.
The Digital Box Is Fully HD And Has Amazing And Unique Features Such as Auto-Scan And 3G Fast Internet.
This Price of The Multi Tv Decoder Also Covers The Installation Cost And Even The Cost Of The Dish.
The Multi TV Decoder Price Varies From Vendor To Vendor And as a Result, The Digital Boxes Differ.
A Very Reliable Site Where You Can Get To Buy Your Multi Tv Decoder Quickly And Stressfree is OLX.
OLX is an Online Shopping And Selling Market. On OLX, The Decoder Prices Range From Ghc 80 With The Highest Price Being GHc 250.
On OLX, You Can Easily Find The Multi TV Decoder That Best Suits You And Buy It.
If You're Not Comfortable Buying Your Decoder Online, You Can Buy From The Various Multi TV Dealers All Over Ghana In Major Cities.
Multi TV has done so well in it's service delivery, customer service, and prices.
This is why it attracts so many customers and businesses for advertisement.
Multi TV has amazing and numerous revious from loyal customers to prove itself.
The prices of Multi TV decoders continually evolve to respond to customer concerns.
Goinginto the future, prices may change; increasing or decreasing as the number of customers grow and more and more features introduced into the Decoder.
So, what Are You waiting for? Rush now for yours!